Topgolf serves as a refuge for fans of golf and socializing at the nexus of recreational sports and friendly competition. Although there is no denying the appeal of swinging clubs and striking targets, various well-chosen beverages enhance the experience. 
Beyond the golf course, the world of Topgolf drinks creates an environment where each drink becomes a part of the unforgettable adventure. These beverages range from traditional recipes to cutting-edge mixes. The variety of drinks at Topgolf matches the game's fun, appealing to a wide range of likes and dislikes, whether it's a leisurely afternoon game or an energetic nighttime gathering.
Pint or Pitcher
Blue Moon Belgian White $6.25
A wheat brew made in the Belgian manner, Blue Moon Belgian White is distinguished by its hazy appearance, light citrus aromas, and undertones of coriander and orange peel. It has a taste profile that appeals to people looking for a tasty and accessible beer since it is crisp and mildly peppery.
Bud Light $5.5
Light beer Bud Light is renowned for its crisp, clear flavor. It's a go-to choice for drinkers who appreciate a moderate and simple beer with a well-balanced taste profile and little hop bitterness.
Dos Equis Lager $6.25
Mexican beer Dos Equis has a light, reviving flavor. It has a little maltiness and a hint of sweetness, making it a versatile option that goes well with many types of food.
Golden Road Mango Cart $7
Golden Road Mango Cart is a fruit-infused wheat brew with a strong mango flavor and fragrance. It's a colorful and exotic choice ideal for beer drinkers seeking a rush of fruity-reviving flavor.
Lagunitas IPA $6.25
Lagunitas IPA is an India Pale Ale (IPA) with strong hop flavors that combines floral, citrusy, and piney aromas. It is renowned for its rich scent and hop-forward bitterness.
Michelob ULTRA $6.25
Light lager Michelob ULTRA is a good choice for individuals looking for a low-calorie beer. It is a good option for individuals who value a milder beer experience due to its low body and moderate taste.
Miller Lite $5.5
Another light beer with an emphasis on accessibility is Miller Lite. It appeals to people who want a simple and refreshing beer because it retains a fine balance between the malt's sweetness and the hops' sharpness.
New Belgium Fat Tire $6.25
A malty amber brew with a little hop flavor, New Belgium Fat Tire. It combines biscuit and caramel tastes, making it flavorful and inviting.
Voodoo Ranger Juicy Haze IPA $6.75
IPA noted for its juicy and hazy look is Voodoo Ranger, Juicy Haze. It has a blend of fruity hop tastes, frequently including tropical fruit undertones, making the IPA more approachable and less harsh.
Craft Beer
Blue Moon Light Sky $6.25
For those looking for a craft beer that is lighter and more sessionable, there is Blue Moon LightSky. It's a citrus grain beer with a less bitter and more delicate flavor profile that shares the same crisp attributes as the traditional Blue Moon Belgian White. LightSky combines moderate wheat flavor, modest citrus overtones, and a crisp aftertaste. It is thus a good option for individuals seeking a tasty yet cooling craft beer that can be savored for longer.
Lagunitas DayTime IPA $6.25
For those who want the strong hop characteristics of an IPA without a greater alcohol concentration, Lagunitas DayTime IPA is an inventive twist on the standard IPA style. It's a "fractional IPA," meaning it has less alcohol but has the same great hop flavor as a full-strength IPA. Daytime IPA has a lighter body and a rush of hop tastes and aromas often distinguished by citrus, pine trees, and floral overtones. It enables a longer and more pleasurable sipping session without the strong effects of alcohol.
Bottles & Cans
Imports
Domestic
Seltzers & Unique
High Noon Pineapple $8.5
High Noon Watermelon $8.5
Truly Strawberry Lemonade $6.25
Twisted Tea $6.25
Angry Orchard Crisp Apple $6.25
White Claw Black Cherry $6.25
White Claw Mango $6.25
Non-Alcoholic
Athletic Brewing Run Wild IPA $6.25
Heineken $6.25
TG Originals
Topgolf Tea $12
Absolut Vodka $12
Blueberry Lemon Drop Martini $12
Trop' Fruit Mai Tai $10.5
Maker's Tipsy Palmer$10.5
Spiked Strawberry Lemonade  $10.5
Strawberry Hendrick's Mule $12.5
Classics
Old Fashioned $11.5
Bloody Mary $9.75
Topgolf Sangria $9.25 
Mimosa $7
American Mule $10.5 
Topgolf Marg $10
Skinny Marg $12
Blackberry Smash $12.5 
Golf bags $22
Pineapple Punch
Boozy Cherry Limeade
Wine 
White & Rosé  
Rosé, Coppola Diamond Collection $10
Pinot Grigio, Ruffino $9.5
White Blend, Conundrum by Caymus $10.75
Chardonnay, Imagery  $11.5
Chardonnay, Trinity Oaks  $9
Sauvignon Blanc, Wither Hills $12
Red 
Pinot Noir, Three Thieves $10
Merlot, Trinity Oaks $9
Cabernet, Josh Cellars $10.75
Red Blend, Intercept $14.5
Sparkling Minis
Rosé Sparkling, Chandon $17.5 
Brut, Silver Gate $7  
Bottle Only
Brut, Chandon $37.25
Champagne $115
Non-Alcoholic
Fountain Drinks $3.75
Diet Coke
Coke Zero
Sprite
Fanta Orange
Coca-Cola
Barq's Root Beer
Dr. Pepper
Minute Maid Lemonade
H20
SmartWater  
DASANI  
S. Pellegrino Sparkling Mineral Water  
Vitamin water zero XXX
Energy Drinks $5.75 
Red Bull Editions (Tropical, Coconut Berry & Watermelon)
Red Bull Energy Drink & Red Bull Sugarfree
Other Beverages
Powerade
 Mountain Berry Blast or Fruit Punch $4.75
Juice 
 Orange, Apple, Grapefruit, or Cranberry $3.75
Gold Peak Traditional Iced Tea  $3.75
Hot Tea & Coffee  $3.75
Conclusion
Blending entertainment and beverages creates an experience at Topgolf that goes beyond the conventional limits of golf and interaction with others. The beverages, a crucial component of this equation, enhance the fun and camaraderie that are the hallmarks of the Topgolf mentality. 
At Topgolf, every experience—from making a flawless shot to lifting a glass in celebration—proves that sport and refreshment coexist peacefully. As the sun sets on a special round, the flavor of a well-made drink leaves its imprint on the tapestry of friendship, laughter, and shared experiences that characterize the spirit of Topgolf.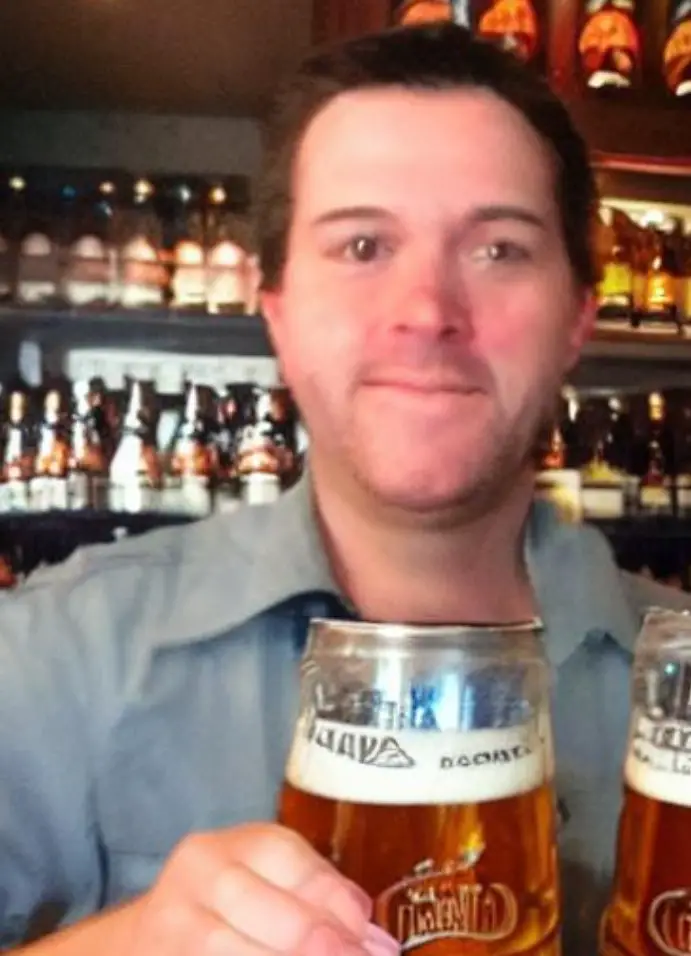 I am a passionate beer connoisseur with a deep appreciation for the art and science of brewing. With years of experience tasting and evaluating various beers, I love to share my opinions and insights with others and I am always eager to engage in lively discussions about my favorite beverage.