Upcycling beer barrels is an excellent way to create a unique, eco-friendly home decor in an increasingly sustainable world. Not only do these barrels add rustic charm to any space, but they are also a sustainable solution for reducing waste.
This article will show several creative ways to repurpose beer barrels into functional, stylish home decor items. From coffee tables to bathtubs, there are many options.
Recycle Your Beer Barrels for a Sustainable Growth
Recycling beer barrels is an excellent way to promote sustainable development and support the UN's 17 Sustainable Development Goals. We reduce waste, conserve resources, and reduce environmental impact by reusing barrels.
It is a crucial step toward a more sustainable future. We can create a more just, equitable, and environmentally friendly world for all by working towards the UN's Sustainable Development Goals.
20 Creative Decoration Ideas With Beer Barrels
1. Beer Barrel Bar
Transform old beer barrels into an eye-catching wine barrel bar to add style and functionality to a beer cellar. Make as many shelves in your bar as you want. These shelves will accommodate your beer bottles and glasses.
By upcycling, this barrel will add character and style to the cellar. It will promote sustainable practices giving old barrels a new purpose. It's the ideal way to create functional, eco-friendly pieces for any wine lover!
2. Old Beer Barrel Pet House
If you're a pet lover, I have a fantastic idea for you. Let's make a pet house for your lovely pet. This pet house will be extra comfy. In addition to comfort, it will add a modern style to your home decor.
To make a beer barrel pet house, cut the barrel in the middle and make a window-like opening on opposite sides. Place some comfy material and make a perfect bedroom for your pet. You can add flower decoration at the top to make it more stylish.
3. Beer Barrel Transformed into Light Hangings
Those dim lights hanging in the drawing room always caught my attention. You will also fall in love with these hanging beer barrel lights. And I have a fantastic idea to make those chic light hangings affordable and adorable.
Cut your old beer barrel into halves and hand it upside down. Attach light bulbs or tubes to it. You can follow any arrangements or the number of lights. Make sure the lights are a little dimmer to create a perfect mood.
4. Chic Patio Table With Beer Barrel
Sitting in the backyard and taking evening tea is always fun. Why not add a sophisticated wooden table to your patio without disturbing nature? Yes, you can do it without cutting a single tree.
You need one wooden beer barrel and a few skills with much passion. Cut the beer barrel in halves and make the table per your taste. Don't forget to make the edges smooth to have a better experience.
5. Beer Barrel Cottage Sink
Everyone always loves a modest interior. If you love the retro style, this idea is specifically for you. Repurpose an old beer barrel into a charming cottage sink by adding faucet, basin, and shelves for storage.
This upcycling project adds character to any space and promotes sustainable practices by repurposing barrels and reducing waste. It's the perfect way to create a functional and environmentally-friendly sink for your cottage or rustic-style home.
6. Fire Pit for Outdoors
Keep your winters warm and Earth safe. Love to sit in the backyard on winter's nights? As a beer lover, you can warm your winter nights with the stylish touch of a wood fire pit for the outdoors.
Let your beer barrel stand straight on your patio, and add a basin to make fire. Ensure the lining is properly polished and the bay is metallic so the barrel doesn't burst with fire. Rest is all having fun.
7. Round Horse Chair for Backyard
Beer barrels are a blessing for those fond of doing creative experiments with their home decor, beer barrels are a blessing. Here is another jaw-dropping decoration idea with a beer barrel if you're the one. Make a round horse chair for your backyard decor.
You can make your evenings more beautiful and romantic in this round horse chair. If you love reading books, this chair will elongate the charm of book reading. Plus, place your beer barrel fire pit close to have a cozy environment.
8. Miniature Garden in Beer Barrel
Going green is the modern trend of this century. People love to make their surroundings green. This is the only option to save the environment and move towards sustainable growth.
You can also participate in this go-green initiative by transforming your old beer barrel into a miniature garden. Place your beer barrel horizontally and cut the window section in the middle.
Use perfect loam so that the plants grow greener. You can plant anything, but planting flowers would be ideal. Another better idea is to plant some edible vegetables to make it more like a kitchen garden.
9. Beer Barrel Wooden Frame Mirror
Now is the time to decorate your bedroom. The piece of furniture that you look towards mostly is your mirror. Why not make it a mirror that shows your sustainable personality? You can make it easily by adding a touch of sustainable growth.
Forget about mirrors with wooden frames that are available in markets. They will cost you the safety of your planet. Utilize the old beer barrels to make a round wooden frame for your mirror and give a rustic look to your room decor.
10. Chandelier Lamp for Chic Light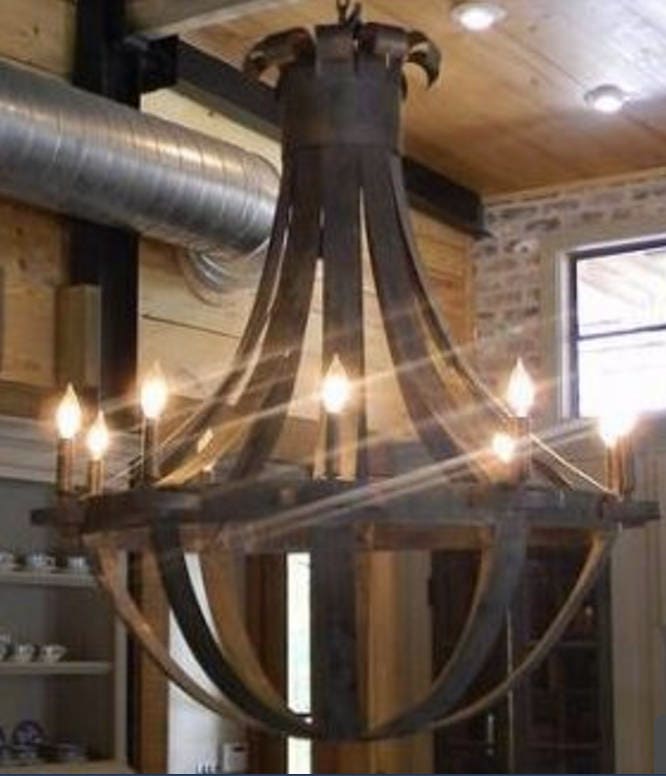 Chandeliers are masterpieces. They are mostly made up of glass and candles. But I suggest you make a chandelier with beer barrels. Isn't it exciting? Sure, it is. Use your beer barrels to create a stylish, unique home or office chandelier.
Cut the barrels into long pieces and hand them together. Add a light source, like electric bulbs, to make a dim light effect, and hang this beer barrel in your drawing room. This goes perfectly with traditional home decor.
11. Cottage Beer Barrel Play Houses
Transform your backyard into a whimsical haven with one of these playhouses made from repurposed beer barrels. Whether you're searching for an intimate reading nook, small art studio, or secret hideaway – beer barrel playhouses make the ideal addition to any backyard.
Their rustic charm and nostalgic touch will ensure these cottages become treasured Beer Barrel Bar for Merchant's Cellar family heirlooms for generations to come. You, your children, as well as your pets can all be accommodated in these playhouses.
Install many such playhouses on your patio to make it more romanticizing. This area will be perfect for any kids' or adult beer party. So, make your home like a resort with this brilliant cottage idea.
12. Rustic Style Christmas Tree With Beer Barrels
Bring out your festive spirit with a rustic-style Christmas tree from repurposed beer barrels! These trees provide cozy and charming additions to any holiday decor, with twinkling lights, ornaments, and garlands.
It will impress guests at your event and create lasting memories for your family members – making this an eco-friendly alternative to traditional decorations that might cause harm.
Beer barrel Christmas trees are perfect for outdoor or indoor use. They offer an excellent sustainable and eco-friendly option! So, if it's Christmas or any other festive, try making an ornament using your beer barrel.
13. Be a Drummer: Make a Beer Barrel Drum
Unleash your inner musician with a beer barrel drum! These instruments are made from repurposed barrels and offer an authentic sound perfect for jamming with friends or performing on stage.
Whether experienced or just starting, a beer barrel drum is an excellent addition to any musical collection. With many sizes and designs available, one will surely be perfect for every drummer out there!
14. Repurposed Beer Barrel Patio Set
Create an inviting, comfortable outdoor space with a repurposed beer barrel patio set. Crafted from sturdy oak barrels, these sets offer rustic charm to any backyard or patio area.
You will find the perfect setting for relaxing outdoors with various styles available, like tables, chairs, and benches. Durable and weather-resistant, these sets will last you years of pleasure in the great outdoors.
15. Arc Beer Barrel Vase
Add a natural touch to your home or garden with an arc-shaped beer barrel planter. Crafted from repurposed barrels, these planters offer a unique and rustic aesthetic perfect for showcasing plants and flowers.
Whether you need a centerpiece in your living room or a decorative accent for outdoor spaces, an arc beer barrel planter is versatile and stylish. You should grow natural plantations, but you can also use artificial plants.
16. Beer Barrel Clock
Keep time in style with a beer barrel clock. Crafted from repurposed barrels, these clocks offer a unique and chic home decor perfect for any home or office setting.
Whether you prefer wall or tabletop placement, beer barrel clocks make functional yet stylish additions to any space. With various sizes and designs available, one will surely be perfect for everyone's tastes.
17. Craft Pieces Beer Barrel Caligraphy
Do you adore art like calligraphy or typography? Why not use your old beer barrels to satisfy your love? Add a magical touch to your home decor with calligraphic crafts from repurposed beer barrels.
Whether you're searching for wall art, signage, or calligraphy, these unique and rustic pieces offer an eye-catching look that fits any style. Expertly crafted by skilled artisans, each item is individual and adds character and charm to any space.
18. Fairy Tale Garden With Beer Barrel
Transform beer barrels into charming planters, whimsical fairy houses, or captivating water features that will transport you into an alternate realm of fantasy and wonder. Or shouldn't we try it all at once?
Whether creating a fairy garden for your children or adding some magic to your backyard, using beer barrels as the starting point will surely be successful! Stand one beer barrel straight up.
Use the second barrel to make mini houses and mountains on it. To give it a perfect fairy tale touch, add plantation and fountains with water supply. Use some cotton or other materials to touch your fairy tale house with a snowy touch.
19. Beer Barrel Trash Bin
Did you ever think that collecting trash could be stylish as well? Or have you ever imagined a trash bin adding a home decor element? Quite funny? I have an idea where you can collect trash with style.
Crafted from repurposed barrels, these trash bins offer a rustic outlook perfect for any backyard or patio. Choose from many sizes and designs to find one barrel that complements your outdoor space.
Durable and weather-resistant, beer barrel trash bins are built to withstand elements and provide years of use. Their eco-friendly construction makes them an eco-friendly alternative to traditional plastic trash bins.
20. Beer Barrel Fountain Spring in Garden
Add an air of serenity to your garden with a beer barrel fountain. Crafted from repurposed barrels, these fountains create a soothing and relaxing ambiance perfect for unwinding after a long day.
You can try various sizes and styles to make beer barrel fountains. These fountains make versatile yet stylish additions to any outdoor space. Add some plantation to have a more natural look.
Whether you prefer a standalone model or a multi-tiered design, they will wow guests!
Conclusion
Utilizing beer barrels for home decor is an eco-friendly and sustainable way to add character to your living space. You can transform these barrels into tables, chairs, and stools. You could use them as planters to create a peaceful green corner in your home.
Beer barrels not only offer a sustainable solution to home decor, but they can also add an element of history and culture to your space. As symbols of the traditional brewing process and testaments to beer makers' skill, incorporating beer barrels into your design could be seen as paying homage to this rich brewing history.
Repurposing beer barrels for home decor is also the best way to support local industry and reduce waste. Many breweries and distilleries discard used barrels after brewing, so repurposing them can help reduce their carbon footprints.
Using beer barrels for home decor is an innovative, sustainable, eco-friendly choice that can add a charming touch to your living space. So benefit from this unique trend and give your house a new look with beer barrel decorations!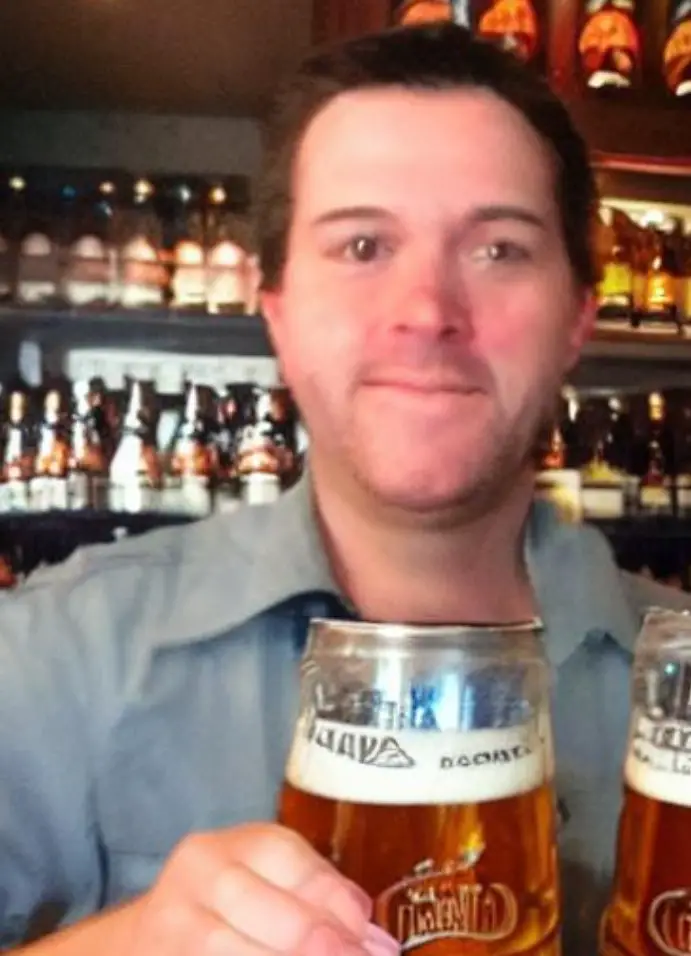 I am a passionate beer connoisseur with a deep appreciation for the art and science of brewing. With years of experience tasting and evaluating various beers, I love to share my opinions and insights with others and I am always eager to engage in lively discussions about my favorite beverage.