Do you think of Poland as the most alcohol-consumption nation because it is the top European Vodka producing country? You are wrong!
Polish people are not heavy drinkers like other Europeans, but they love beer and vodka. Several beer brands from Poland brew and export the highest quality beer to serve their customers the best from the best. 
If you are not a Pole, but looking for a delicious thirst-quencher beer of affordable price, go through this list of the ten top-rated Polish beers to beat the heat in 2023.
1. Tyskie Gronie
Have you ever tasted European Pale Lager from Poland? Tyskie Gronie is the most preeminent Polish beer brand with a 5% alcohol by volume. The clear golden-orange shade of beer looks tempting when poured, especially its thin foamy head that retains for a decent time but does not leave any lacing behind.
Talking about the nose, it has the scents of an incredible blend of malts, apples, bananas, and earthy malts with a similar set of flavors. Tyskie offers a smooth mouthfeel with a touch of sweetness because of its medium to full-bodied characteristics with good carbonation. This Euro Lager is a highly drinkable beer to refresh your mood.
2. Zywiec Biale
A highly renowned beer among the Poles, Zywiec, owned by Zywiec Breweries PLC (Heineken), contains a 4.9% ABV with a decent amount of carbonation. It is a Witbier that pours a hazy gold hue with a half-inched white head that leaves a little lacing. The smell highlights the notes of banana and clove with a wheaty combination. Zywiec, a light to medium-bodied alcohol with a well-balanced flavor profile, gives a delightful mouthfeel with a touch of crispiness. It has all the ingredients to become your next choice on a hot day.
3. O.K. Beer Okocim
O.K. is a European Pale Lager brewed by Browar Okocim S.A. with an ABV of 5.6%. The golden color of this beer makes its appearance lovely. Plus, the white head with medium retention, leaving scattered lacing. 
The scent has malts and grains, but the flavors are malty and grainy, with lots of corn and grapey fruit. Okocim's Euro Lager is highly drinkable and has a smooth mouthfeel. With excellent carbonation and a refreshing body, O.K. beer is a pleasant drink to spend quality time on after work. 
4. Zubr Lager
Elegantly brewed in the beautiful land of Poland, Zubr Lager, a European Pale Lager by Browar Dojlidy S.A., is a reddish-golden beer with a bone-white rocky head and long-lasting retention. It contains a 6% alcohol content with a unique aroma. A honey-like scent with pale malts, white bread, lightly toasted grains, and a bit of corny flavor, Zubr gives a crisp delightful mouthfeel. Under a hinted sweet malt body, this typical European Lager offers a dry finish. Zubr could be a perfect thirst-quencher after a long walk or hectic working day. 
5. Perla Chmielowa (Hop Pearl)
Comes from the mesmerizing Lubelskie region, Perla Chmielowa, a leading beer from Perla Brewery with an ABV of 6%, is a clear yellowish golden-colored alcohol with a decent white head but low retention. The scent of bread dough, malts, grains, and grassy hops are the same as the taste. With a light body and good carbonation, Perla offers a sweet flavor and smooth mouthfeel with a subtle hint of hoppy character. Also, it is a drinkable, crispy, and refreshing Lager that serves best when cold. 
6. Lech Premium
With 4.9% alcohol by volume, Lech Premium is an enjoyable Polish beer with a fluffy white head that lasts for a few seconds when poured into a glass. The aromas of malts, grains, and hops are present, and the taste follows the nose with a unique blend of creaminess, bringing a well-balanced sweet flavor with a hint of acrid hops. Lech offers a smooth mouthfeel with a moderate level of carbonation. It could be a flavorsome beer on the hottest days.
7. Warka
Warka, a lightly carbonated European Pale Lager brewed in the Polish land by Browary Warka, is a transparent copper-colored beer with an off-white foamy head and little to no retention. The aroma and taste have similar notes of malts, grains, and grassy hops, but it is medium-bodied on the palate with a skunky dry finish. Warka has many distinguished characteristics that make it a decent Lager but taste it with traditional Polish food to enjoy more flavors.
8. Harnas
A crystalline golden hue of Harnas looks inviting when poured into a Pint glass. Launched by Okocim Breweries in Poland, this thirst quencher displays a soapy white head with decent retention and lacing. It has 6.2% alcohol content and good carbonation that overpowers the taste of hops. The scent of Harnas is full of grains and malts with a trace of grassy hops. With good drinkability, the flavors follow the nose, but the bitterness is evident. To sum it up, the Euro Lager has a medium body but feels dry on the palate. 
9. Tatra
Another variant of Zywiec Breweries PLC, Tatra, a European Pale Lager, contains an ABV of 6%. A lightly boozy scent of this see-through golden beer with a foamy bone-white head with little retention is a treat to watch. Tatra is a medium-bodied beer with good carbonation. It has malts and grains more than any other ingredients, making it worth-try alcohol. However, the aftertaste is distasteful and unenjoyable. If you like bitterness in beers, Tatra could be your choice.
10. Lomza
How many of you are a fan of Dormunder Export Lager? Try Lomza beer brewed by Browar Lomza. It contains 5.7% alcohol by volume. The frothy pure-white head is a delightful beauty, but the head retains for a short time. Its smell has notes of faint herbal hop, malts, and grains. However, the flavor profile is impressive, with notes of malty sweetness with grassy and earthy hops. The finish is a perfect blend of bitterness and sweetness. Lomza has a light body with a decent level of carbonation and a refreshing bitterness aftertaste.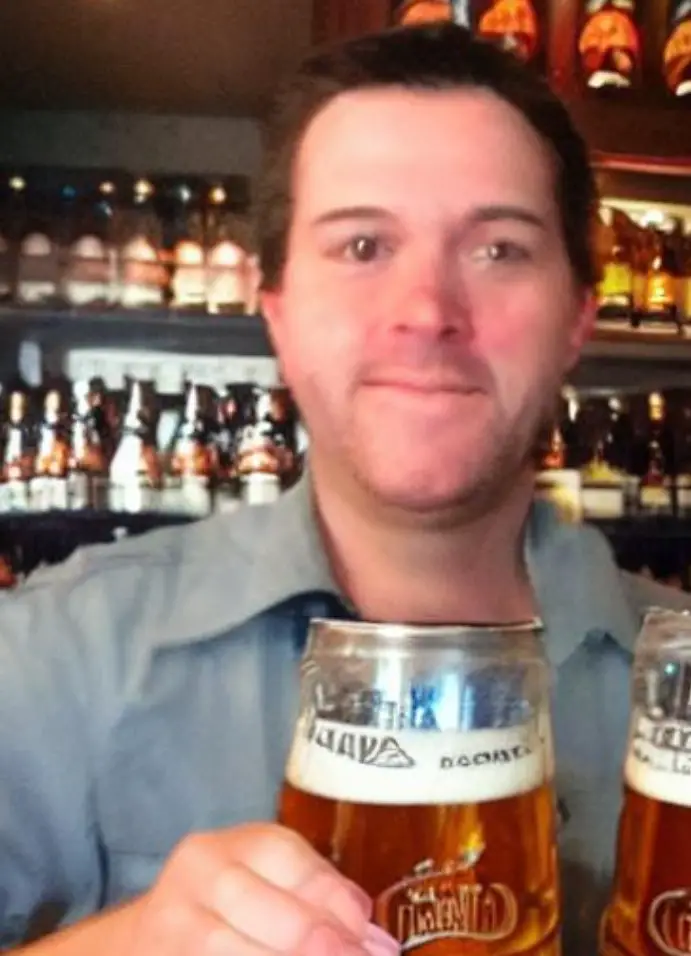 I am a passionate beer connoisseur with a deep appreciation for the art and science of brewing. With years of experience tasting and evaluating various beers, I love to share my opinions and insights with others and I am always eager to engage in lively discussions about my favorite beverage.